Last year, my neighborhood lost a longtime resident and cherished neighbor and, as her house is redeveloped, I was able to salvage a bit of Petworth history and a memory of one of my favorite neighbors, Miss Erma.
Miss Erma was among one of the first residents I met on my block when I moved in several years ago, and I miss walking by her house to say hello during daily dog walks (she's pictured at left enjoying a regular visit from my pup). As the construction crew rehabs her house and prepares it for new neighbors, I was fortunate to snag the two original windows from her house that were left for the next haul of debris.
I have never reclaimed a piece of history for wall art before (though I have often thought about it watching HGTV or visiting Community Forklift), so I decided this would be a worthwhile opportunity. While there are many articles and blog posts online about taking vintage windows, doors, mantels, etc. and repurposing them as art, tables and more, I was surprised how few mentioned the possibility of lead paint. Luckily I was acutely aware of the likelihood of led paint on the frames (houses on our block were built in the early 1900s), and I bought a test at the local hardware store before doing anything.
As suspected, the windows showed signs of lead paint, so I halted further work until I could get the supplies needed to take precautions before preparing them to come into my home. I am not an environment hazard expert, but I found this information from the New York Department of Health helpful in deciding on my approach.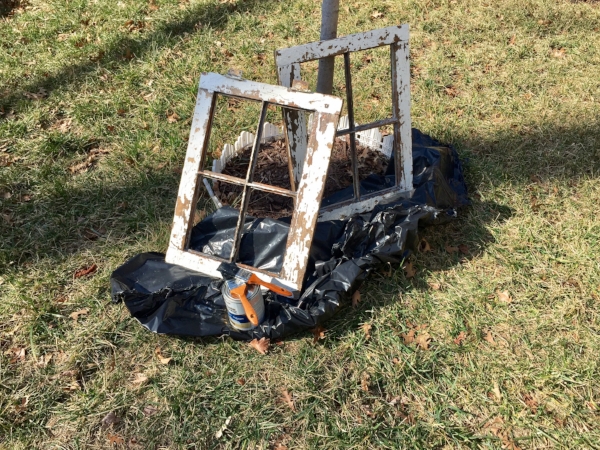 While I had toyed with keeping the glass (after removing/replacing panes, and even adding a mercury glass effect), I ultimately decided to leave the windows without glass (they are substantially lighter for hanging, as well). While wearing protective gear, I removed layers of caulk and used a wire brush to remove loose paint and a coarse sandpaper to tackle any potential splinters. After a quick cleaning with soapy water to remove any remaining dust and debris, I let them dry before sealing with Varathane Triple Thick Polyurethane in a matte finish. The poly dried to a tacky finish in two hours and was ready to come inside a few hours later (no smell at all).
I decided to hang the windows with the weathered white paint facing out, pairing with an existing original drawing already hanging in my home. I love having a constant reminder of a dear neighbor and a bit of DC's history on my wall.
Have you recycled any architectural elements for your home? I'd love to hear about them!